The world and the energy landscape are changing faster and more significantly than ever before. We are experiencing more robust challenges and stringent expectations from regulators, investors, and the public on the industry to radically reduce our climate footprint and impact – from current operations, future projects and products. The industry needs to collectively improve its response, showing commitment and alignment on shared values and goals.

With this in mind, our strategy sets out our new purpose statement and the three pillars of IOGP's future service.
Our strategy is built out of our purpose and values. Our reinvigorated purpose positions IOGP to lead the climate change and decarbonization agenda, which includes themes such as flaring and venting, GHG measurement and reporting, energy efficiency, electrification, CCS and blue hydrogen.
It also incorporates broader topics such as standardization and digitalization, industry skills, and competency management.
It requires IOGP to extend its advocacy remit globally, representing not only the exploration and production sector, but also, where relevant the wider oil and gas industry.
Finally, it requires extension of the current upstream membership to increase the level of IOGP's industry representation and hence, voice and influence of the sector.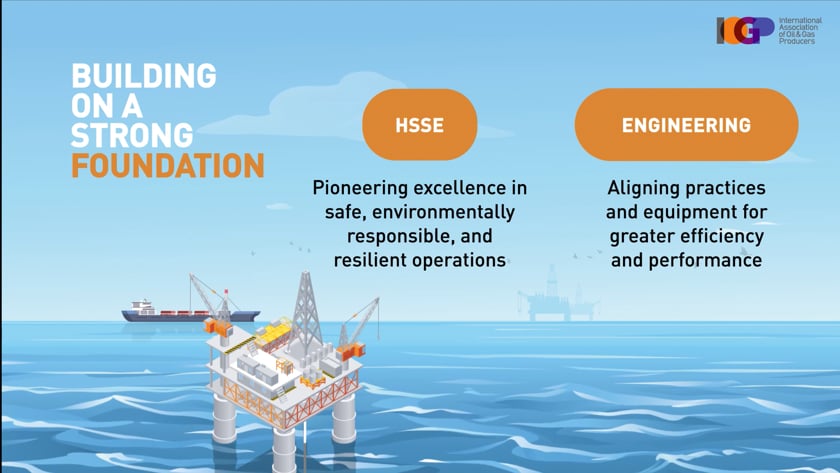 The three pillars of IOGP's future service
The animation, above, shows how IOGP's future service will be built on three pillars:
The Association is building on its heritage of Health, Safety, Security and Environment (HSSE), engineering, and advocacy. Among others, this includes continuing to drive engineering standards and technical good practice as well as digital solutions.
The Association's advocacy efforts will step up and be more global. Agility and foresight, to better respond to stakeholder queries, are on top of the agenda.
In order to help the industry decarbonize, a dedicated Energy Transition Directorate has been created. IOGP's role in the Energy Transition is a key element of our strategy. We will accelerate efforts towards decarbonization solutions and facilitate industry alignment on emissions. The prioritized themes and opportunities for the industry have been identified as: Carbon Capture and Storage; Electrification; Energy Efficiency; and Flares and venting reduction.
The Association aims to drive widespread implementation of technologies to reduce greenhouse gases across these four themes for existing and new offshore and onshore oil and gas facilities through shared knowledge, expertise, and standards.
IOGP's pro-active, foresight-based approach ensures that we identify emerging risks, enhance regional coordination and ensure alignment on response, policy, and positioning. Agility, increased co-ordination and integration between the committees as well as cross-association alignment will be critical to ensure that the service IOGP provides meets its Members' expectations on efficiency and value.