Description
In this first of a series of Global Energy Briefs, IOGP looks at Central & South America*, one of the world's major oil and gas producing regions; rich in energy resources – particularly oil. As of the end of 2016, the region held one fifth of the world's proved oil reserves.

Brazil overtakes Venezuela as the region's biggest oil producer
Oil production in Central & South America is at a high level of more than 7 million barrels per day since a decade ago. The latest figure is 7.5 million barrels per day. Two countries currently dominate Central and South American oil production: Venezuela and Brazil.
Traditionally, Venezuela had been South America's biggest producer. Its oil reserves (18% of the world's total) outstrip those of Saudi Arabia. But the political and economic instability of recent years has taken its toll on production. In 2005, Venezuela's daily output was 3.3 million barrels. By 2016 it was down to 2.4 million barrels per day.
As Venezuela's production has waned, Brazil's has been growing significantly since 1985. In 2016, Brazil's daily output of 2.6 million barrels gave it a 35% regional share, making it, for the first time, South America's largest producer. Working in Brazil's favour have been a supportive strategy regarding exploration bids which has attracted interest by international oil companies, coupled with the development of new offshore technologies.
Oil production: Brazil and Venezuela are the biggest producers
Oil demand is on an upward trend in the region. Again, Brazil's accelerating prosperity is apparent, notwithstanding a recent decline. It now accounts for the largest share of demand in Central & South America. The relative fragility of Venezuela's economy can be seen in its diminished share of total demand. Overall, demand in the region has increased by a factor of four since 1970.
Oil demand: up by a factor of four since 1970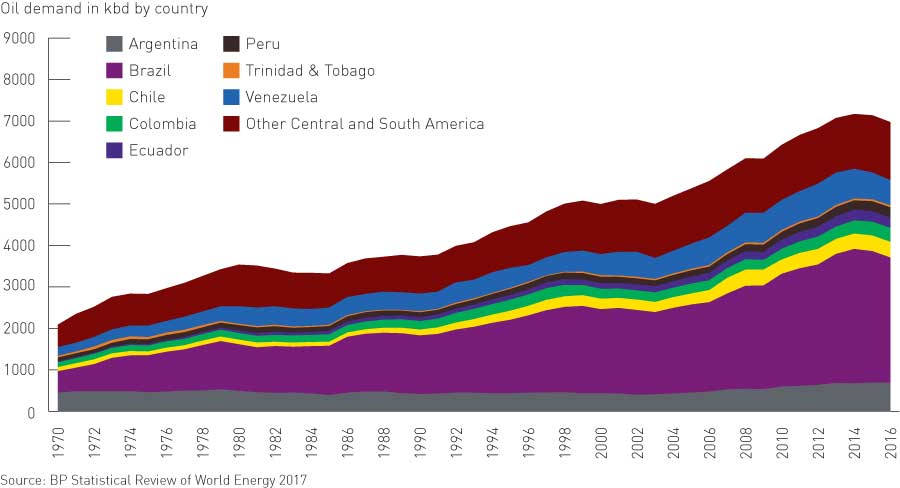 ---
IOGP Production Indicator© (PI)
The IOGP Production Indicator© (PI) for oil is based on dividing daily production in thousands of barrels (or, for gas, billion cubic metres per year) by demand. The PI indicates the level of a region's self-sufficiency (and export potential). A PI above 100% demonstrates the ability to export; below 100% shows the need to import.
---
A more complete picture emerges when comparing the history of the relationship between oil production and demand in Central & South America in the figure below:
Oil: falling export potential
Supply and demand first converged in the 1980s, at which point Central and South America's position as an oil exporter was in jeopardy. Soon after, new investment in exploration and production – largely in Brazil and Colombia, combined with a recovery in Venezuela – remedied that situation.
Central & South America once again became a major exporter, generating significant revenues for the exporting countries while simultaneously meeting increasing indigenous demand.
More recently, however, as the region continued to grow more prosperous as a whole (except Venezuela, where production also suffered due to lack of investment) production and demand are once again close to converging.
Whether or not a similar boost in investment and production will occur remains to be seen. Meanwhile, the yield in existing oil fields is tending to diminish by about 6% per year.
The future for oil in Central & South America
"Changes in national policies of most countries are creating more equitable tax and fiscal regimes. These can attract significant investment from national, regional and global players in the upstream oil industry.
Major areas of opportunity include offshore Brazil and Guyana; in the latter the huge Stabroek Block has yielded five successful wells. Offshore Suriname, still in the exploratory phase is also promising. Great potential also remains in Venezuela and its realisation relies on major changes by government to make the country attractive to investors once more.
Challenges include maintaining dialogue and cooperation with governments within the standards of anti-corruption compliance, logistic costs, labor union issues and weak coordination between local and national governments for access to land."
Miguel Moyano
Upstream Director, ARPEL
Regional gas production proliferates
Production of natural gas in Central & South America has risen steadily since 1970. Until around 2000, two countries, Argentina and Venezuela, were the biggest producers and soon after Trinidad & Tobago became contenders as well.
The top three producers have recently been joined by a number of other countries, which are now producing natural gas to supply their local markets. Whereas Argentina and Venezuela accounted for more than 65% of regions gas production in 2000, this share has fallen to 40% in 2016. Bolivia, Brazil, Colombia and Peru have all become significant gas producers.
Gas production: from two nations to seven
Gas demand: up by 79% since 2000
Gas demand within the region has risen dramatically by 79% since 2000. This is due to increasing availability of indigenous supplies and to investment in new developments.
Regional demand for gas in Central and South America has increased by a factor of 12 since 1970. Argentina leads the region in gas consumption, accounting for 29% of demand. Brazil and Venezuela each use 21% of the region's gas.
Gas: diminishing export potential
The future for gas in Central & South America
"There are a lot of opportunities for natural gas development in Latin America and the Caribbean, a resource-rich region.

There is cause for greater optimism. Recent production increases in Bolivia, Brazil, Colombia and Peru are encouraging, as is the recovery of gas production in Argentina. There, the Vaca Muerta shale formation is one of the world's largest. A $5 billion investment in 2017 should help to improve infrastructure and so lower production costs. Venezuela has the potential to become a game-changer, in particular if the country manages to develop the under-explored offshore platform, but there is great uncertainty.

The main challenges are the sector competitiveness in a gas abundant global scenario, and to develop domestic demand to make upstream investment
more attractive.

Progress in creating more attractive tax and fiscal regimes is continuing to attract interest in most of the region's producing countries.

The challenges for gas development are similar to those for oil: compliance with anti-corruption initiatives, labour difficulties and disputes between local
and national governments on access to land."

Pablo Ferragut
Project Manager, ARPEL

[/vc_column][/vc_row]