Safety
Process Safety: Empowering frontline workers
By Olav Skar, IOGP Safety Director
For the oil and gas industry, saying that safety is a 'top priority' doesn't come close to capturing the extent of our commitment – we work to make sure that safety is ingrained in every company's culture, and we won't rest until all of our colleagues feel that all the risks they could face at work are addressed.
IOGP has a long history of working to improve safety and to supporting its members in their efforts to protect their workforce and others. Our unique dataset enables us to distil and focus on the biggest risks, and tailor our interventions accordingly. Our main focus areas under the larger safety 'umbrella' include process safety, road safety, aviation, and a host of personal safety concerns.
You may already be aware of IOGP's successful "Life-Saving Rules", that provide workers in the industry with actions they can take to protect themselves and their colleagues, no matter the worksite. Many companies, including some outside the oil and gas industry, have implemented them, enabling more and more people to have confidence that they will finish their working day safely.
In 2020, building on the Life-Saving Rules, IOGP published the Process Safety Fundamentals (PSFs), a set of basic principles that support companies as they seek to reduce, and ultimately eliminate, fatal and high severity process safety events. The idea came from one of our member companies, which donated its set for industry use. We compared those PSFs against our process safety performance data, which allows us to identify the most common causes of safety issues, and further customized the PSFs to support those working in front-line operations, maintenance, and on wells, across our global footprint.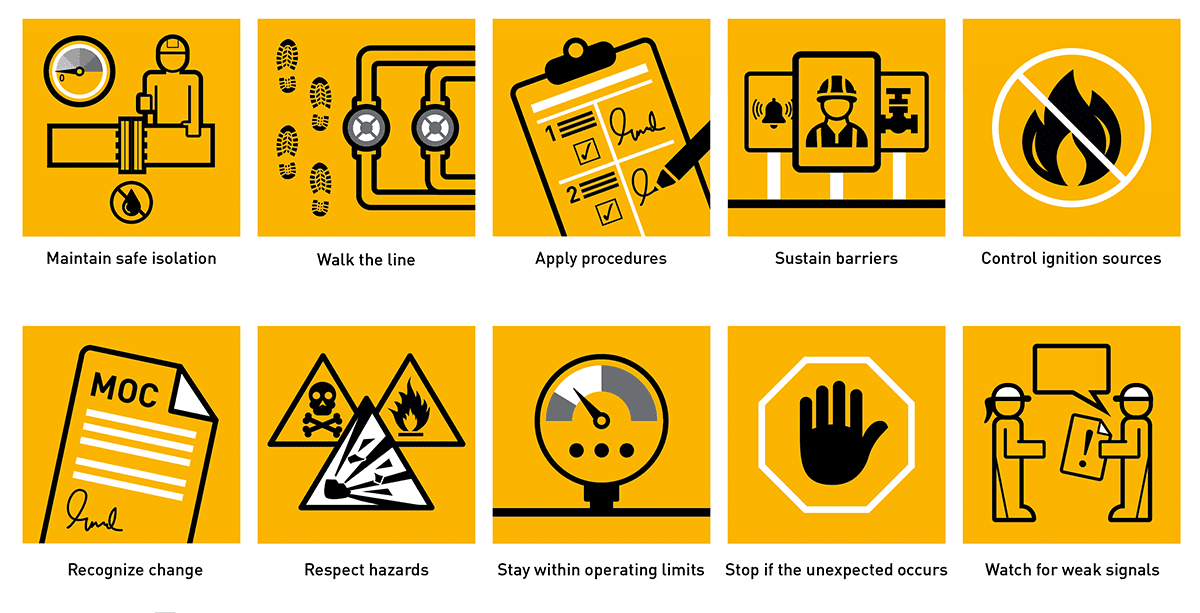 The PSFs are not intended to exhaustively address all potential process safety hazards. Instead, they should be used to supplement a company's own process safety management systems, guidelines, training programmes or work instructions.
So, are the PSFs just another set of rules?
During development of the PSFs, it was very important that we not create simply 'another set of rules', to be added to what can already be a cluttered space. IOGP's Process Safety Fundamentals are meant to serve as a supportive tool to improve process safety. The general content should be familiar to the industry. What is new is the way these concepts are presented, enabling frontline workers to get a clearer picture of what process safety means in their day-to-day work activities. Further, having a global, industry-wide initiative advances industry standardization, which is both efficient and more effective in preventing incidents.
Our work is often complex, and in some cases, it may not be possible to follow a particular PSF. They are therefore designed to encourage our people to "speak up" and feel fully empowered to raise issues and dilemmas as they arise. Effective Process Safety risk management relies on diligent human interaction with plant and process, and the PSFs facilitate that interaction.
This is a corner stone of an excellent safety culture: empowering people to speak up.
In my experience, curious, open dialogue helps teams excel. People knowing that they can speak up, having confidence that they'll be listened to, and finding ways to safely and efficiently progress – together.
---
This article was first published in Energyvoice (23/2/21).